Okay, so I joined this several months back, and apparently afterwards, it went idle, or something.. And I got a message telling me to re-join.. So I basically copied and pasted my old application in.. But with a few changes.. And some of my more recent pictures..




! APPLICATION !
1. Name: Shmoo.
2. Age: XVII.
3. Location: Pennsylvania.
4. Music that you like (genres, bands, artists): I range all over.. From Cannibal Corpse, to The Spice Girls.. I can put my music list at the end, like I always do..
5. Define your personal style without sounding like a poseur: I mix a bunch of genres together, from clothes, to hair.. I guess I can put myself together as a Goth, Punk-E-Mo, Club Kid, Slut, Crackwhore Hybrid.
6. What is glamour: To be literal; An air of compelling charm, romance, and excitement, especially when delusively alluring.
7. How are you creative: I'll mix and match anything.. I'll dye my hair to match my clothes.. And of course they need to match my make-up, which in turn needs to match my nails, and my..
8. Your inspiration of the moment (picture, or description): I'd say the Club Kid scene, despite the fact that there's very little around here. I'd go more into the crazy make-up styles, but I feel I'd look way too ridiculous to pull any of that off. I like putting things together that don't match.
9. Post at least FOUR clear photos of your face: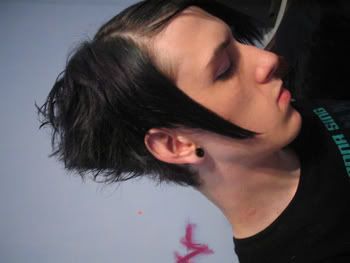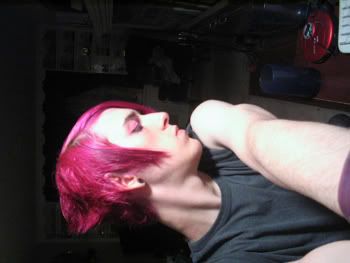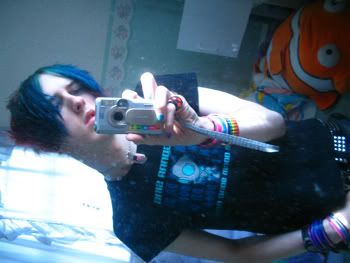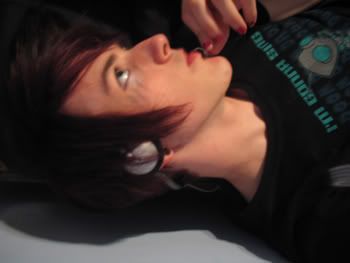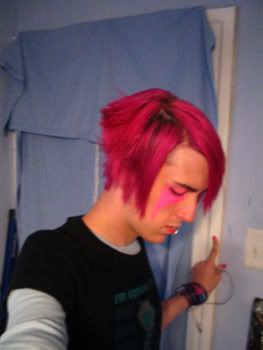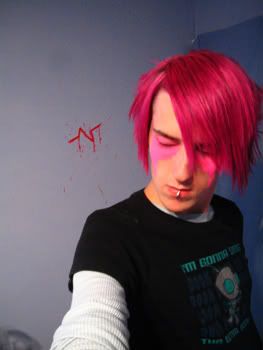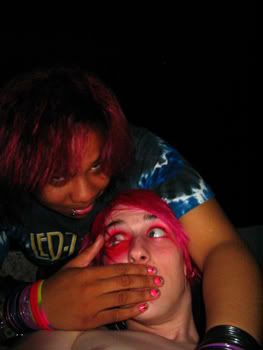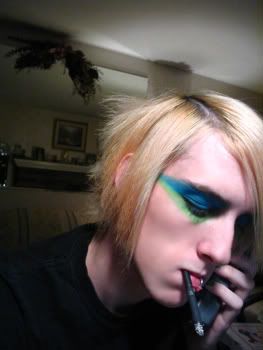 [Most Recent]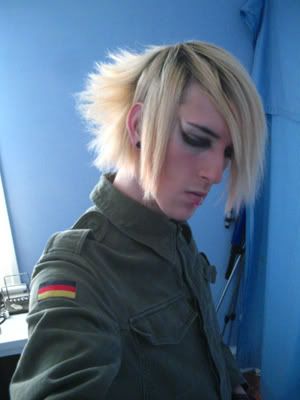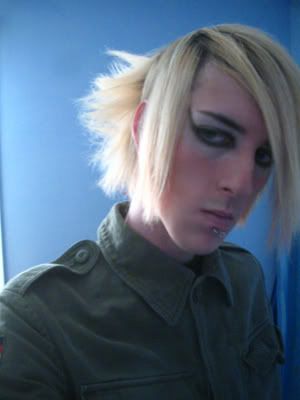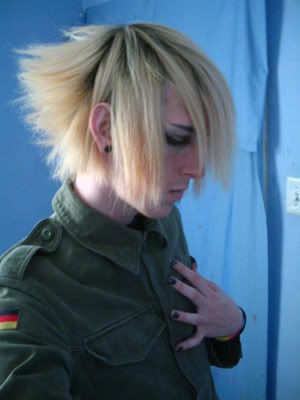 10. Post at least ONE body shot: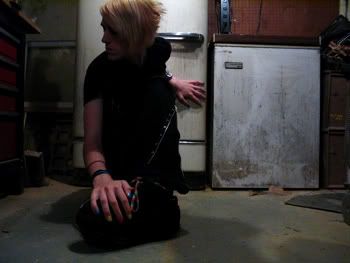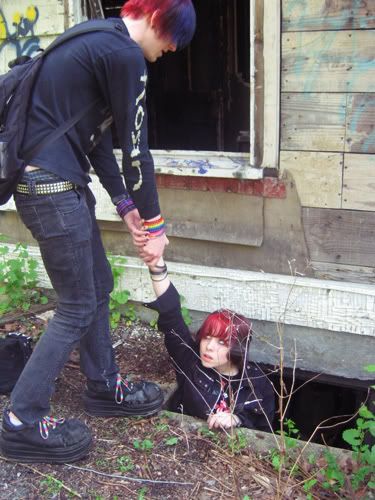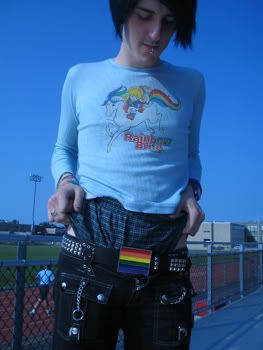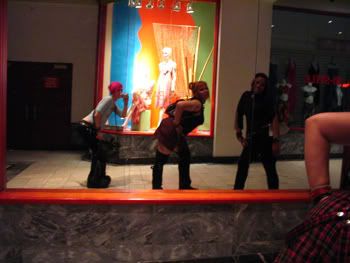 [I just like the way it makes my legs so skinny.. Yep. I'm Leg Shallow.]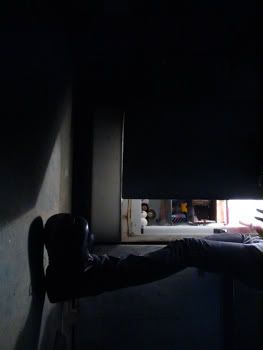 [Leg Shallow]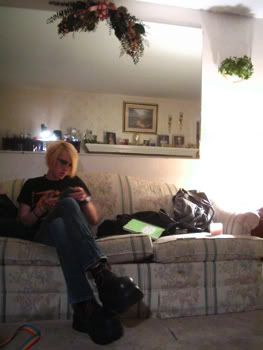 11. Whore us somewhere and post the link: http://www.livejournal.com/users/necro_0ptic/16937.html

And as for the playlist;

Orgy, Rubix , -=[digitaldumbshit]=-, 30 Seconds To Mars, 40 Below Summer, A Perfect Circle, A Static Lullaby, aDuck, Agent Smith, Alice Deejay, Alien Sex Fiend, Amber, Anabolic Frolic, Android Lust, The Anix, Aphasia, Aphex Twin, Apoptygma Berserk, ASCII.Disko, Assemblage 23, Astrid Haven, Atari Teenage Riot, ATC, Audio Plug, Aurasis, Autechre, Axoe, Basement Jaxx, Bauhaus, Betty X, Birdbrain, The Bithday Massacre, Bjork, Boards Of Canada, Bow Ever Down, Brainclaw, Bosco, Boiano, Cannibal Corpse, cEvin Key, Cherry, Chris Vrenna, The Clash, Clinical Torment, Club Decease, Coal Chamber, COLD, Concept 2, Core Exchange, Cradle Of Filth, Craig Armstrong, Crush, The Cruxshadows, The Cure, Daft Punk, Damage Manual, Dead Or Alive, Dead Sexy, Dead Voices On Air, Deadsy, Death By Stereo, Death In Vegas, Decoder, Deftones, Dekoy, DELETEIndustrial, Depeche Mode, Desolation Radio, Devo, Dillinger Escape Plan, Diorama, Disturbed, DJ Diesel Boy, DJ Gizmo, DJ Hydro, DJ Hype, DJ LaLa, DJ Liquid, DJ Mystik, DJ Quick, DJ Rave, DJ RIP, DJ Screw, DJ Techno, DJ? Acucrack, Dom And Matrix, Dope, Dope Stars Inc., Doubting Thomas, dOWNLOAD, DT, Duran Duran, E-Race, Effiel 65, Einherjer, Eisbrecher, Electrik Jesus, Epsilon-Zero, Evergreen Terrace, Eye Kandy, EZ-Rollers, Facs, The Faint, Fantasy, Fantomas, Fear Factory, Finger Eleven, Fluffy Starr, Fluke, Foetus, Frakie Goes To Hollywood, Front 242, Front Line Assembly, Fun Factory, Funkedub, G.A.S., Geminus Sect, gODHEAD, Godsmack, Gorillaz, Gravity Kills, Groove Armada, The Groovenics, Halo_Gen, hAND, Hanzel Und Gretyl, Hatchet And Annie, Haujobb, Heat Of P)-(usion, Hexadecimal, HIM, Hoax, Hooverphonic, House Of Pain, HSP, Ima Robot, Industrial Playground, Infected Mushroom, ION, Jack Off Jill, JL, John Frizzell, Johnny Hollow, Joy Division, K1LLing The Cure, Karma Police, Karpe, Kill Hannah, Killswitch Engage, KMFDM, Knuckles, KOMPRESSORMUSIC, KoRn, Lacuna Coil, Laibach, The Lethal Brothers, Lightning Bolt, Lollipop Lust Kill, London After Midnight, Love And Rockets, Lunarclick*, Luvox, Magic Sound Fabric, Marilyn Manson, MDFMK, Megaherz, Melodica, Michael Krosta, Michael Sadler, Militia Christi, Mindless Self Indulgence, Ministry, Miriam, The Misfits, Mister Kill Joy, Modular Series, Motley Crue, MuDvAyNe, Muse, Mushroomhead, Nedra Gunn, New Order, Nine Inch Nails, Nitzer Ebb, Nothingface, NUKAGE, OhGr, Orbital, Otep, Oxide And Neutro, Paris Burning, Pendulum, The Peppermint Creeps, Pigface, Pitchshifter, Poison The Well, Porn, Powerman 5000, Professional Murder Music, Psychaesthetic, Pulcher Femina, Rage Against The Machine, Rammstein, Rancid, Randy And The Finks, Ratt, RAVE MUSIC, Razed In Black, Red Tape, Resistor, Rhythm Attic Studios, Rob Zombie, Ruber Music, RURIK, Sasha And John Digweed, Secret Methods, The Seekers, The Sex Pistols, Sharp Scientific, Siouxie And The Banshees, Skinny Puppy, Skumlove, Slayer, Slick Idiot, Slipknot, Soft Cell, Solar Nine, The Sound Gallery, Spinwarp, Stabbing Westward, Staind, Starsplash, Static-X, STAYTE, Straight Line Stitch, Strokern, StubbSonic Design, Suture Seven, Symbiotic, System Of A Down, Tangerine Dream, Tankeo, Technical Itch, Thomas Dolby, Timothy Leary, Tool, Transfixions, Type-O-Negative, Uberband, UNKLE, Uranium 235, The Vagrant, Vanity Beach, Vegas In Space, Velvet Acid Christ, VNV Nation, Vorn, The White Stripes, White Zombie, Wolfsheim, Worm Cult, Wumpscut, XP8, XTRANCE VPP, Year Of The Rabbit, Yello, You Shriek, Z Prochek, Zeromancer...

And before I get shit from my playlist; I don't adore every band on there. It's just a compiled list of the bands on my playlist, and I don't like them all equally, In fact, some of them I hate.. Which is really outdated, and should be edited..

..I put way too many pictures in there, I don't know why.. I'm just not in a happy mood tonight.